Stadium/Specialty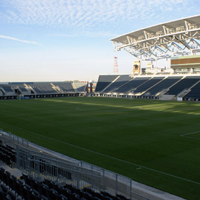 Having participated in many stadium projects, Slaw Precast has the experience and knowledge to accelerate the successful completion of stadium construction.
Our roster of stadium projects—from high school stadiums to major-league facilities like Giants Stadium, the Sovereign Center in Reading, Pennsylvania, PPL Park, home of Philadelphia's Major League Soccer franchise, and more—proves our ability to help complete your stadium construction.
Slaw Precast has the capacity to product smaller- to medium-sized stadium jobs. Other precast products include stadium and arena seating risers, sectional airport control towers, reservoir RCC-backed dam panels, and much more.
Chances are that Slaw Precast can meet your needs, no matter the product type.