Architectural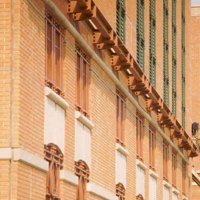 Slaw Precast creates structures that effectively blend form and function. From simple exterior walls to complete multi-unit housing and office structures, our variety of precast architectural solutions provides design flexibility, unsurpassed quality, security, and value.
Our precast wall systems offer flexible panel sizes, widths, and heights to accommodate long spans and unusually wide openings. To further simplify the coordination of your project—including the scheduling of subtrades—we can supply Total Precast Solutions.
Slaw Precast's multiple insulation options enable greater thermal- and energy efficiency, which may entitle you to additional LEED certification points. In fact, we are primary contributors to many of our customers' LEED certification applications, as we offer LEED Materials & Resource worksheets to substantiate claims in the following areas: MR Credit 3 (Recycled), MR Credit 4 (Regional), MR Credit 5 (Re-Use), and MR Credit 7 (Certified Wood).